One Night Stand. Sorta.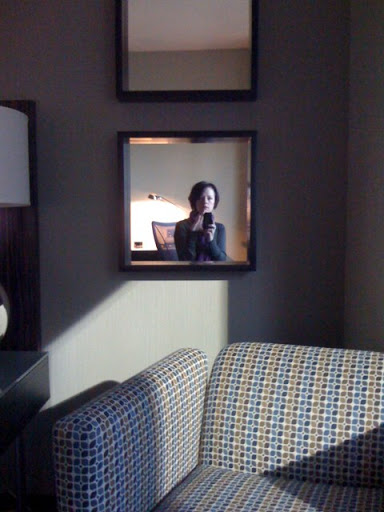 GeoTagged, [N40.75844, E73.98950]
Well, this mini-jaunt to NYC has been eye-opening on many levels. People have been generous with their time, opinions, hugs, and merchandise. I've shipped a box of CDs home, and still have more in my carryon. I put faces with names for a slew of agents that I've been talking to for several years. I could book a million concerts with the resources offered here! But I've also had several good, engaging conversations about musicianship and artistry...it's been interesting and illuminating, and honestly a LOT to process.
I met several folks out for dinner & bevs last night...friends from Carnegie Mellon and the University of Maryland, singers from our summer program, and even my hubby's coolest classmate from his graduate program. So many frames of reference, so many different personalities...when I looked around, I have to admit that my head exploded a little. And, per usual, I didn't get a chance to talk nearly enough with everyone...I know it's the nature of a get-together, but I still wanted to spend more time with each person.
Now, however, I'm tired. And while you (hopefully) can't tell from the hotel self-portrait, I'm snuffy and puffy and fighting off a cold. So I've comandeered a quiet corner of a conference room to wipe the flop sweat from my brow, take notes on some of my conversations (talking to strangers is HARD!), and rest my achy back from my (singular, yet heavy) bag. (travel note-make sure your power cord actually *works* before taking up valuable carryon space for a laptop. Grrr....)
Concerts at 3. Taxi at 5. Flight at 7. Home at 8:30.
Bed at 9. Hallelujah.
My five:
1. Friends.
2. Stretching. Of all types.
3. Inspiration.
4. Free coffee.
5. Homecomings.